No matter how thin and fit you are, unfortunately, there is nothing you can do to prevent or diminish cellulite on your own. The fibrous tissue builds under the skin, mostly around the stomach, hips, and thighs, and creates a lumpy, dimpled appearance. Double board-certified, fellowship-trained plastic surgeon Dr. Marisa Lawrence, the founder and lead physician of Marisa Lawrence Plastic Surgery in Atlanta, GA, is delighted to offer Cellfina. Approved by the Food and Drug Administration, Cellfina can correct the appearance of cellulite for about two years. By targeting the fatty tissue often found in the buttocks and thighs with a minimally invasive procedure, Cellfina releases the tissue and smoothes the treatment area in less than a week. Years ago, cellulite was nearly impossible to eliminate, but now you can enjoy exciting, noticeable results from your Cellfina treatments at Marisa Lawrence Plastic Surgery.
As a new, state-of-the-art treatment, QWO is the first FDA-approved injectable that can help reduce the appearance of unwanted cellulite from the thigh and buttocks area. With the ability to treat severe cellulite, this treatment can offer visible results in around ten weeks after a series of injectable treatments. QWO is an ideal option for individuals who are wanting to reduce the appearance of cellulite without the downtime associated with a more invasive procedure. At Marisa Lawrence Plastic Surgery, our team can talk with you about the many benefits of QWO and determine if you would be a good candidate for this innovative procedure.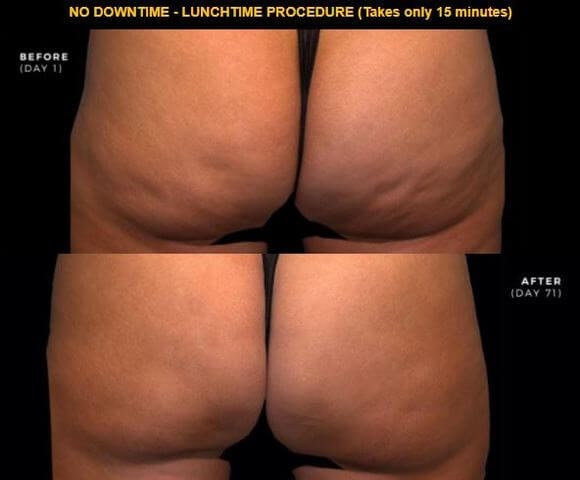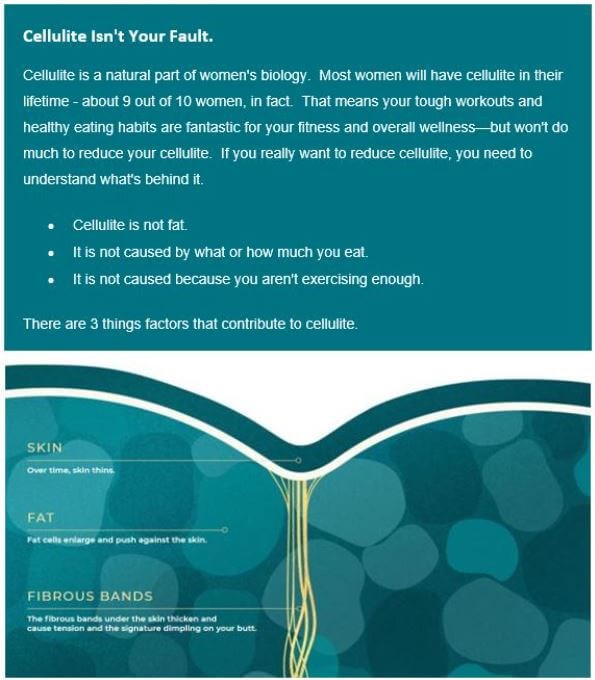 Cellulite Reduction Reviews
"Two thumbs way up - I went to see Dr Lawrence for a Cellfina treatment for cellulite. When Dr. Lawrence saw me, she said I should do 6 sessions of Radio Frequency treatments instead. This is a less expensive treatment. The fact that a doctor would recommend a less expensive treatment made me feel that her office is not about the money, but instead it's about the treatment best suited to the patient. As for..."
- V. /
RealSelf /
Mar 26, 2018
"Ice Your Bum After Cellfina! - I am only two days out from my procedure, but can already tell a big difference happening. I would definitely say to do it on a Friday afternoon and not have anywjere to go that night or next day because you will ooze blood and lidocaine (or whatever they use to numb you) for about 24 hrs. There isn't really pain, but more of a discomfort when I sit. Nothing a couple of Tylenol hasn't handled. One thing I can say to do is ICE ICE ICE! I came home and put two bags of frozen peas under my butt for 30 minutes every 4 hours the first night and my bruising is very minimal compared to the other pics I see here. Oozing stopped after first night as well. Will update in a few weeks!"
- A. /
RealSelf /
Mar 02, 2020
Previous
Next
Cellfina and QWO provide great results with little risk for most men and women at Marisa Lawrence Plastic Surgery. However, you may not qualify if you have diabetes, varicose veins, an infection, or loose skin. Those taking blood thinners or who are pregnant should not have cellulite reduction treatments. Ideal candidates for cellulite reduction:
Are at a healthy weight
Have cellulite on their buttocks, legs, hips, or stomach
Have toned skin
Before your cellulite reduction procedure, Dr. Lawrence will ask you to stand while identifying each of your treatment areas with a marker. For Cellfina, local anesthesia will be administered. Using suction to stabilize and keep the treatment area tight, a microblade will be inserted beneath the skin using the Cellfina device. The fibrous bands that cause cellulite will be separated, allowing the affected area to relax. This leaves behind smoother skin. The procedure can typically be completed in less than an hour.
During a QWO cellulite reduction procedure, the areas of injection will be carefully marked and several injections may be administered into the area. Most patients will need to undergo a series of three injection treatments scheduled about three weeks apart for optimal results. One treatment session only lasts around 30 minutes, depending on the number of injections required.
In most circumstances, you will be able to return to your normal activities the same day after your procedure. However, we highly recommend you refrain from vigorous exercise for a few days to allow the treatment area the opportunity to heal. Side effects of the procedure are tenderness, swelling, and bruising. These side effects usually fade in the days after your procedure. Following your Cellfina treatment, you might see tangible results within just three days with peak results appearing in the months that follow. With QWO, results can take up to ten weeks to become noticeable after your three treatment series. Individuals who maintain a healthy weight will see long-lasting results, but the procedure can be safely repeated as needed.
Frequently Asked Questions
How much does cellulite reduction cost?
The total cost of your cellulite reduction treatment will be based on the size and the number of area(s) being treated. During your private consultation with Dr. Lawrence, these things will be discussed prior to estimating the cost of your treatment. We proudly accept many forms of payment and may be able to help you secure medical financing.
What is cellulite?
Cellulite is dimpled and lumpy skin that is often present on the thighs, hips, and butt of women. It can also affect men but is not as common. While the cause is unclear, many doctors believe cellulite is fat that has been inundated with toxins. Cellulite can be found on slim, as well as overweight bodies and may be the result of diet, age, or genetics.
How long are cellulite reduction treatments?
Treatment sessions last approximately 30 – 60 minutes with no recovery period following. This means your session can be completed just about anytime you'd like. For Cellfina, patients usually need 6 – 8 sessions scheduled around one week apart to attain the best possible results. However, QWO may only require three treatment sessions.
How can I recover faster from cellulite reduction?
With nonsurgical cellulite reduction, you should be able to return to your normal daily routine the next day. However, Dr. Lawrence recommends you avoid rigorous activity, including exercise for 1 – 2 weeks. Following your appointment, you may feel warm and notice slight redness, but you are safe to return to daily activities.
Will I have continuous improvements after cellulite reduction treatments?
Yes. One of the most noteworthy benefits of cellulite reduction is continued improvement and cellulite reduction over time. This is the result of stimulated collagen growth taking place beneath the skin.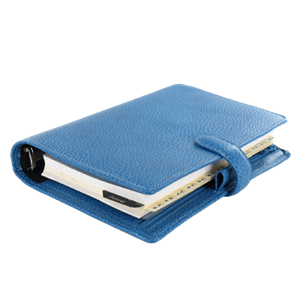 Plan Your Procedure
Average Cost

$2,000

-

$5,000

Recovery Time

1 – 2 Days

Average Procedure Time

1 – 2 Hours

Post-op Follow-up

1 Week

Procedure Recovery Location

Office
Contact Us
Cellfina and QWO have helped thousands of individuals to decrease cellulite from their problem areas and increase their confidence. When you are embarrassed by unwanted cellulite on various areas of your body but do not want to resort to a surgical procedure to receive that smooth look you dream of, contact Marisa Lawrence Plastic Surgery to schedule a consultation with Dr. Lawrence. Learn how cellulite reduction can reduce the appearance of cellulite to provide a youthful glow that complements your beautiful body.
Related Procedures