Stretch Marks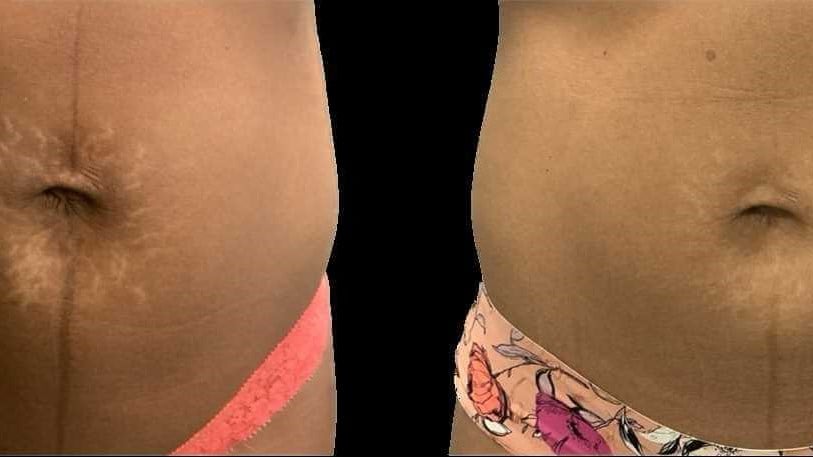 If you are looking to improve the appearance of stretch marks in the Atlanta, Georgia area, Marisa Lawrence Plastic Surgery has a treatment available to help make them look better. We treat stretch marks with the Halo Hybrid Fractional Laser. 
HOW MANY TREATMENTS DO I NEED?  The Halo laser takes on average 3 treatments and has some downtime to it. The number of treatments needed will vary from patient to patient and Courtney Cox, our Laser Specialist, can personalize a treatment plan based on the level of improvement you desire. A series runs around $3500-$7000 for the package of 3 treatments depending on the size of the area. With treatments we can get an improvement in the stretch marks, but we cannot remove them completely. The average amount of improvement is dependent on the patient and a percentage cannot be guaranteed. 
WHAT AFTERCARE PLAN DO I NEED? Included in your package is our Keep Calm cream and Get Snatched firming retinol body lotion. Some patients will also use our Brighten Up pads to help prevent pigment from appearing after the laser treatment. You should always protect your skin from direct sun exposure and use sunscreen. Courtney Cox, our Medical Esthetician/Laser Specialist will provide you with more information on what to expect as well as give you an aftercare plan to follow that will involve avoiding direct sun exposure and using sunscreen.
Call 404-303-7004 to schedule your Stretch Mark consultation with our Laser Specialist, Courtney Cox today.